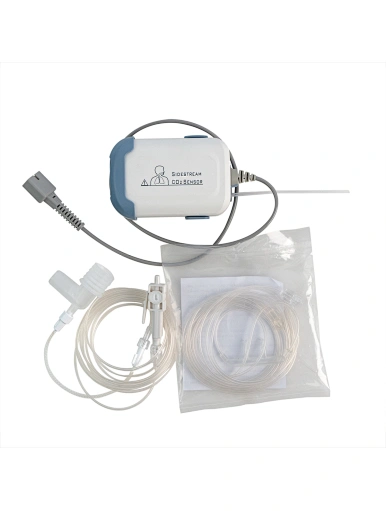 Sidestream CO2 sensors is an external plug and play sidestream CO2 sensor. It does not occupy any host space and connects to host just with one eight-pin plug. LH800 features cutting-edge technology for measurement of instantaneous CO2 concentration, respiration rate, end-tidal CO2 concentration, inspired CO2 concentration, inspiration time and expiration time. It is generally used in patient monitor and anesthetic machine. With a sampling rate low to 50 mL/min, it is ideal for use on adult, pediatric and infant patients; patients undergoing procedural sedation; and short- term monitoring of intubated patients.
Patameters: ETCO2, FICO2 and RESP

Suitale for intubated patients during surgical process

Assisting the doctor in judging when to connect and remove the ventilator

Cheking and confirm ET tube placement

Alaming when accidental extubating occurs

Detecting ventilator airway connection

Compatible with Respironics module's communication protocol

OEM and ODM service are available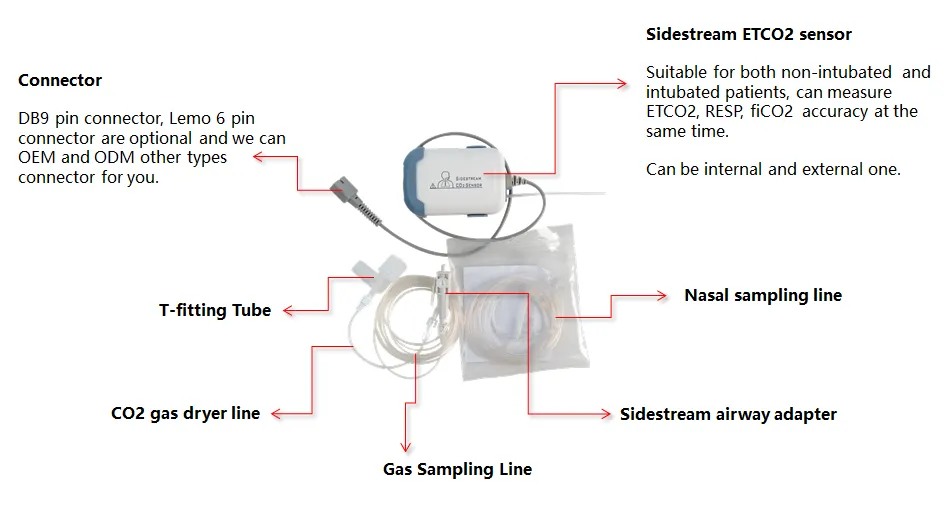 Transducer Type :                 Sidestream CO2 sensor

Sample Rate :                       50 mL/min, ±10mL/min.

Principle of Operation:         Non-dispersive infrared (NDIR) single beam optics, dual wavelength, no moving parts

Initialization Time:             Capnogram displayed in less than 5 seconds; Reaching full specifications within 10 minutes.

CO2 Measure Range:         
                                                       0 - 114 mmHg
                                                       0 - 15%
                                                       0 - 15.2kPa
                                                     0.1 mm Hg      0 to 50 mm Hg
                                                     0.25 mm Hg     50 to 114 mm Hg
                                                     0 – 40 mmHg    ±2 mmHg
                                                     40 – 114 mmHg  ±5% of reading
                            Range:              2 to 120 Breaths Per Minute (BPM)

                         Accuracy:             ±1 breath
Calibration:                        No routine user calibration required

Compensation:             
                                              Automatic Barometer Pressure 400 - 800 mmHg.
                                             User selectable O2 / N2O compensation.
 
  Sidesteam ETCO2 sensor is  primarily for non-intubated patients and appropriate for intubated patients for short-term monitoring:
      • Airway confirmation and management
      • Resuscitation
      • Transport
      • Procedural sedation
      • Pain management