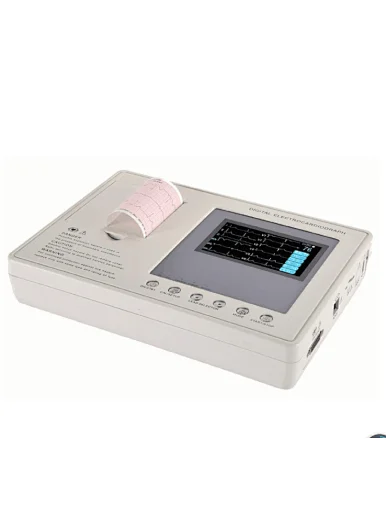 12 Lead ECG Machine 6 Channel
Place of Origin:CN
Model Number:UT-1206
Brand Name:UTECH
Properties:Diagnosis & Injection
LCD display:480*680 7 inch color screen LCD
Machine weight:Machine weight
Paper size:80mm*20m roll type or Z-fold thermal paper
Lead:12 leads,Standard or Cabrera,
Gross weight:3.8KG
Machine Dimension:285(W)*200(D)*55mm(H)
Channel:6 Channel
China Hospital 12 Lead ECG Machine 6 Channel
Model :MC-1206G
Features

Portable delicate design, big color touch LCD, very easy to operate
Accurate pulse pace identification and excellent auto-interpretation function
High accuracy digital filter, auto baseline adjustment
12 leads synchronously acquisition and display; Record mode : 3ch, 3ch+, 3ch+++, 6ch
Working modes: Manual / Auto / Analysis / Storage
800×480 graphic 7 inch color touch LCD screen
250 cases storage and replay(SD card storage is optional)
Built-in rechargeable Li-ion battery supports continuous work for about 4 hours.
112mm*20m high resolution thermal printing
Rs232 and USB interface ( USB disk storage,laser printer printing , PC ECG software are optional )
Language : English, Chinese, French, Italian, Spanish, Russian
300mm*230mm*75mm, 2.8kgs
Technical Specification

Lead Standard 12 leads
Time constant ≥3.2s

lead acquisition 12bit/1000Hz (synchronously 12 leads) Frequency response 0.05~160Hz(-3db)
Work mode Man / Auto/Analysis/Storage Noise level <15μVp-p

Filter AC Filter : 50Hz / 60Hz
EMG Filter : 25Hz / 45Hz

Anti-Drift Filter : 0.15Hz (Adaptive) Inter-channel Interference ≤0.5mm
CMMR ≥120dB (with AC FILTER) Sensitivity 2.5,5,10,20, 40, Auto (mm/mV)
Input circuit Floating; Protection circuit against

Defibrillator effect Recording mode 3ch,3ch+,3ch+++,6ch
Default Man. Mode is 3ch format
Default Auto. Mode is 6ch+ format

Input Impedance ≥50MΩ Paper speed 6.25,12.5,25,50mm/s(±3%)
Input circuit current ≤0.05μA Paper 112mm *20m Roll paper
Patient current leakage <10μA Communication RS232/ USB port ( optional )

Calibrating voltage: 1mV±2% Power Supply AC 110-230V(±10%),50/60Hz(±1Hz),40VA
DC Built-in rechargeable battery,14.4V(2000mAh)
Voltage tolerance ≥±500mV Dimension/Weight 300mm×230mm×75mm/2.8Kg
Package

1 unit / small carton : 40cm*34cm*22cm, net weight 2.8kgs, gross weight 5kgs
4 units / big carton : 70cm*41cm*46cm, net weight 12kgs, gross weight 22kgs
Click here for more information ! ! !
Related products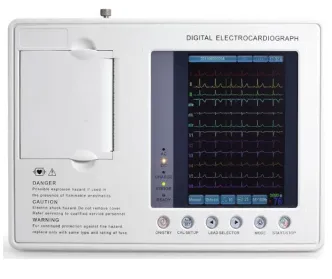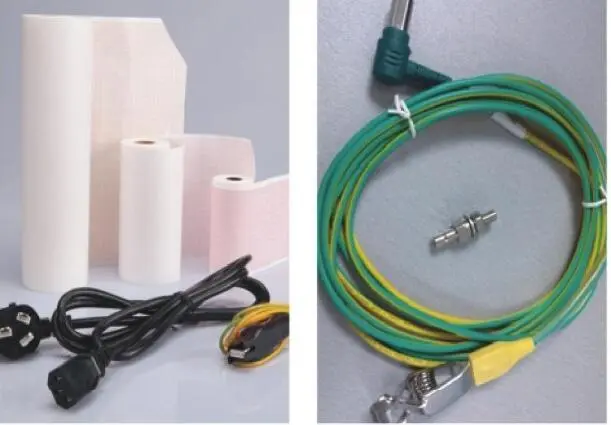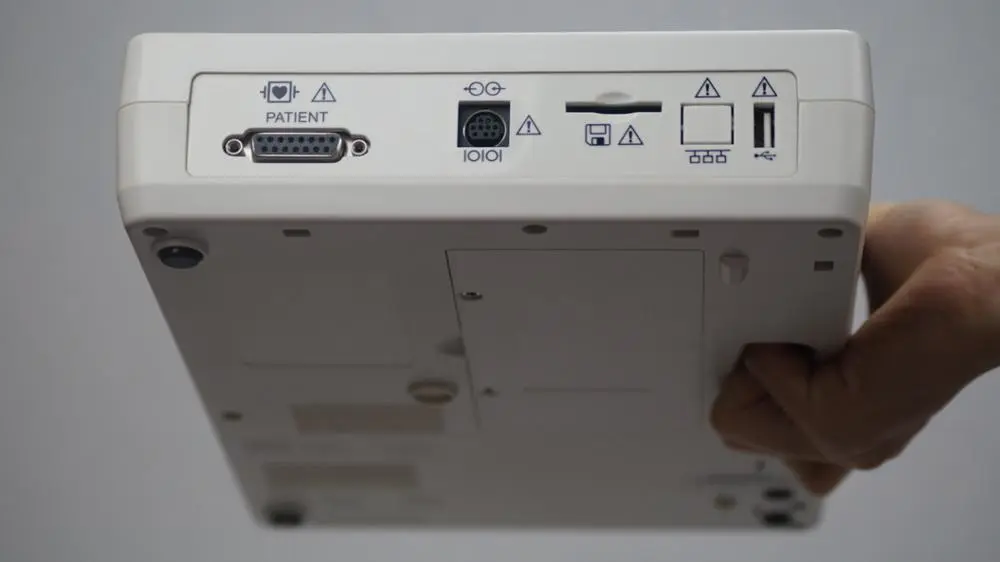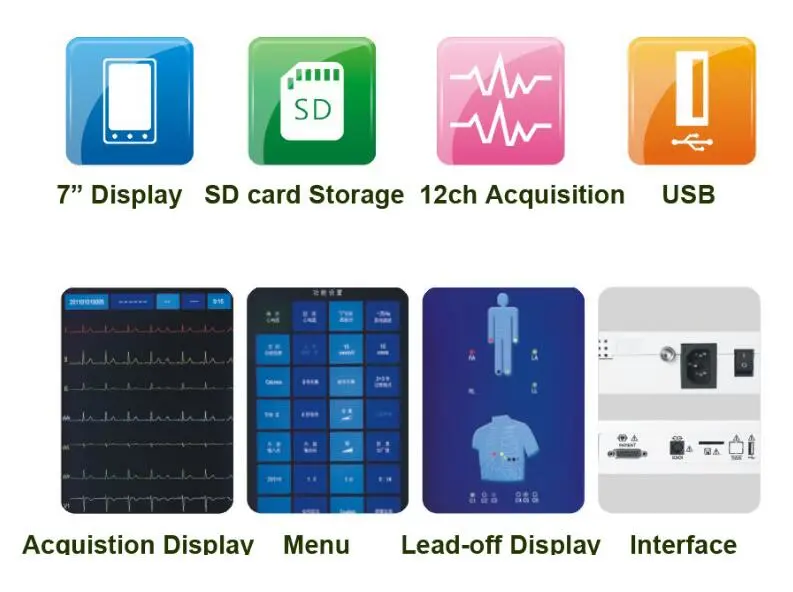 Shipping:TNT, DHL, UPS, FEDEX; By Air etc.
Warranty: 1 years;

OEM & ODM;

Online Technical support(Skype, MSN);

Remote software update;
Contact us directly: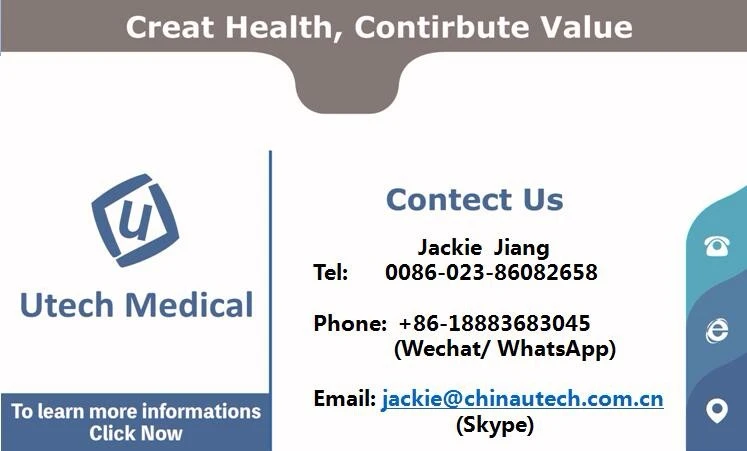 1.Q: Are you a trading company or facotry?
A: We are factory, founded in 2009, we are aimed at providing you medical products with high quality via international standard quality system management.
2.Q:What is the cost of your products ?
A: There are so many products and have different models of each series, We would like to recommend the most suitable products to you based on your definite demands, and mail the competitive price list accordingly.
3.Q: What are your payment terms?
A: T/T, Western Union, Paypal, L/C, MoneyGram etc.
4.Q: What's your delivery time?
A: 3 working days upon the receipt of payment.
5.Q: What's your warranty?
A :Main Unit: 1 years, all accessories with 6 months warranty.
6.Q: What's your After-Sales Service?
A: Any defective products can be replaced within warranty period.
UTECH CO.,LTD is a professional high-tech company combining R&D, manufacture and distribution of medical equipments.
Our products are include Patient Monitors, Pulse Oximeters, Veterinary Products, Infusion & Syringe pumps, Therapy devices.

Enterprise vision:To be the premier life safety solution provider in worldwide.
Enterprise mission: Proceeding from the needs of all customers.

We do this by:
Creating reliable measurements that read true in all patients, even the sickest patients
Making affordable, economic and durable devices
Enabling easy data capture, management, reporting and remotely software updated
Expanding more products to satisfy different needs.
We already served more than180 countries and will pay more attention on serving worldwide with high quality and competitive prices medical equipments. UTECH is becoming a leading medical equipment supplier which maintains sustainable growth worldwide.