Psychologists should play a key role in multidisciplinary teams (MDTs)
2022-07-06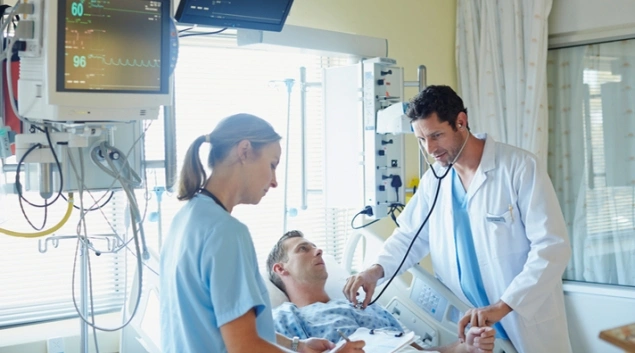 Growth of Critical Care Psychology
Acute stress, the effects of delirium, adverse cognitive and psychological outcomes, and family and staff stress are complex matters to manage within a highly complex medical environment. There is evidence that critical care departments are now starting to employ fully-trained, usually senior, psychologists to help manage these issues. A workforce survey of allied health professionals in critical care in England, Wales and Northern Ireland (Critical Care Network National Nurse Leads 2016) found that 23 of 135 responding units (17%) offered a psychological support service to families and patients. However, the true proportion of ICUs in England, Wales and Northern Ireland offering psychology could be smaller, given that 270 units were sent a survey and 217 were returned. Many units did not complete the psychology spreadsheet, presumably because they have no psychology provision. In 15 units the service was provided by practitioner psychologists (health, counselling or clinical). Of 27 identified psychologists, 15 were senior psychologists in the band 8 range* (NHS Agenda for Change payscales range from 1-9, see healthcareers.nhs.uk/about/careers-nhs/nhs-pay-and-benefits/agenda-change-pay-rates), while 12 were more recently qualified band 7s. The most frequent provision was one psychologist one day a week (range 5-37.5 hours per week). In some units the psychological service was provided by psychotherapists, counsellors, follow-up nurse specialists, bereavement nurses or psychology support workers (band 6s). Table 1 highlights psychological support services offered in a given percentage of the 135 units.
A survey of health psychology in the USA received 175 responses (Stucky et al. 2016). It found that psychologists are involved in critical care settings in various roles. It was not known how frequently psychologists were consulted or what specific services were most effective, valued, or desired.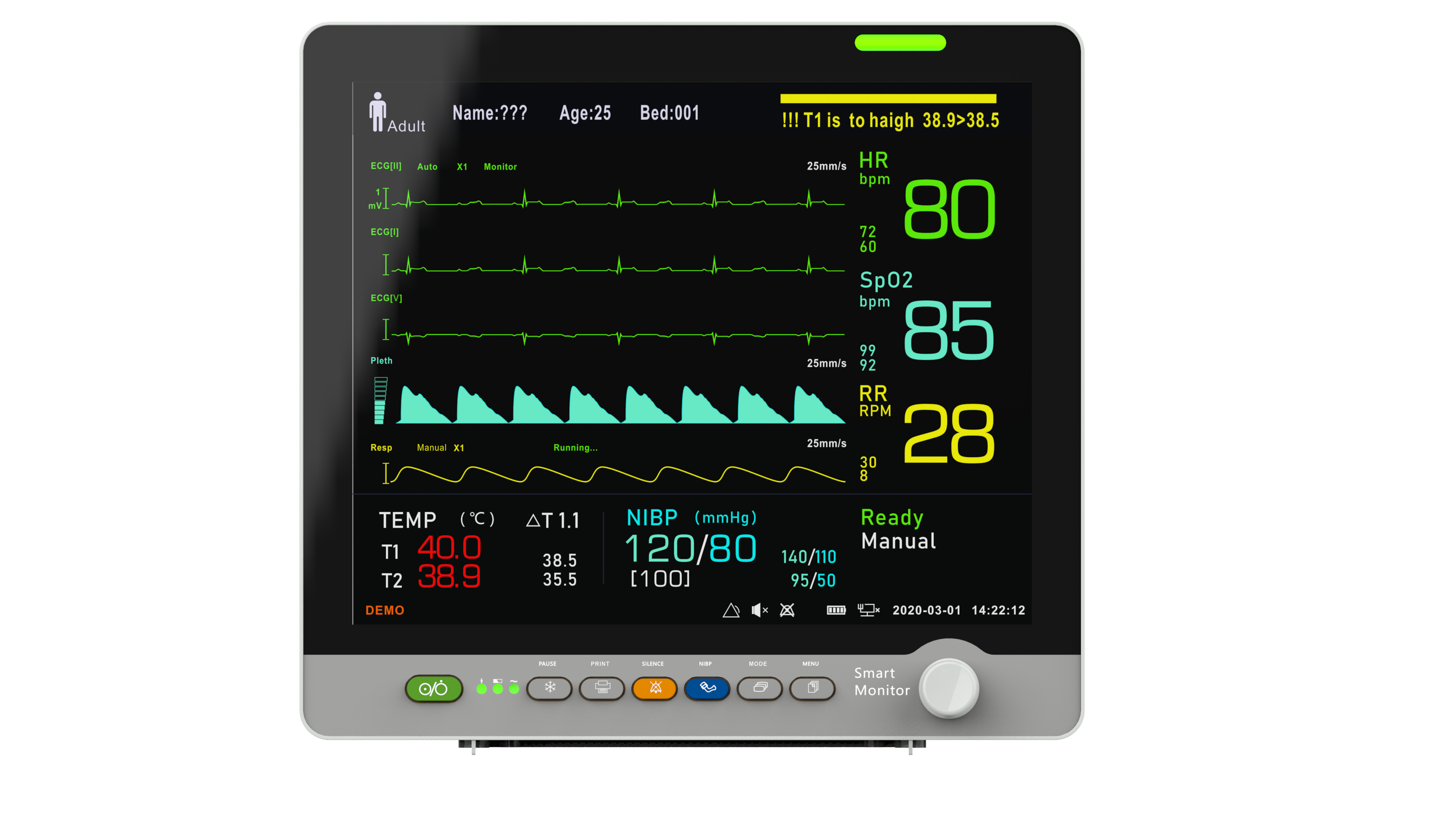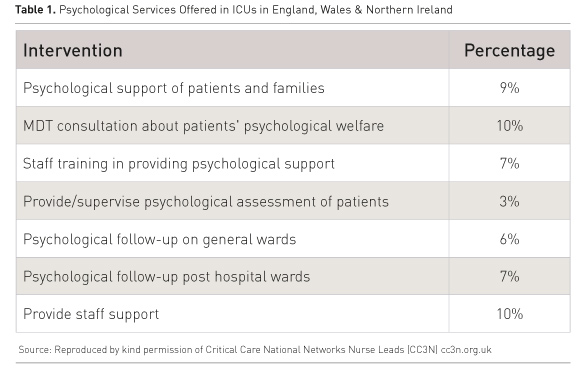 Role of Psychologists
Now that psychologists are taking their place in the critical care team, what should their role be? The role has been recognised and described in a section of the UK Guidelines for the Provision of Intensive Care Services (Howell and Wade 2015). Psychologists can play a vital role in the acute critical care setting, and as part of patients' follow-up care, both in- and post-hospital. They are also able to help maintain a healthy working environment and manage workplace stress.
In the acute setting, psychologists should supervise the psychological and cognitive assessment of all patients, both in the critical care unit, and after transfer to other wards, as well as providing or supervising psychological support to patients and relatives who are highly stressed or traumatised. They can also help staff manage communications with distressed families. Psychologists can provide training to increase staff knowledge and understanding of psychological reactions, delirium, stressors in the critical care environment, and psychological and cognitive outcomes of critical illness. They may also deliver training to increase staff competency in providing psychological support to patients who are distressed, agitated, or delirious. Similar types of training have proved successful in cancer services.
Psychologists should play a key role in the multidisciplinary team (MDT), attending ward rounds, and being available for consultation on matters such as communication, sleep, effects of sedation, anxiety, stress, mood, delirium, and family issues. They should be involved in developing holistic care plans for long-stay patient.
The psychologist should also play a full role in follow-up care, including assessment and support of patients who suffer traumatic stress reactions such as flashbacks of frightening delusions, or who become depressed in the hospital after discharge from ICU. Their role should also include the psychological (emotional and cognitive) assessment of patients attending critical care follow-up clinics. In a well-resourced follow-up service, a psychologist could ideally offer sessions of CBT (including trauma-focused CBT) and other evidence-based treatments. These sessions would be specifically tailored for critical care patients. If not possible, the critical care psychologist should liaise with GPs and/or community mental health teams regarding appropriate psychological treatment or cognitive rehabilitation in the community.
Finally, psychologists should play a role in addressing stress and burnout among critical care staff. This could include advising senior management at an organisational level on systemic issues influencing patient and staff wellbeing, as well as organising a wellbeing programme for staff (individual and group sessions as well as teaching and proactive work) and coaching or reflective sessions with senior management. (M Smithies & J Highfield, University Hospital Wales, Cardiff, personal communication).
This is a highly complex role in a sensitive, complex, medical environment. To provide a coordinated service across the critical care department, ideally a consultant-level health, clinical or counselling psychologist should be employed to ensure the necessary seniority, experience and expertise. Additional junior psychology staff could be employed to support the senior psychologist, according to numbers of beds, specialities or units within the department. With such a multi-faceted role, and high-level need, burnout is a risk for the senior psychologist, similarly to other critical care staff, if the psychology service is not properly structured and staffed.

Evidence Base for Psychological Interventions in Critical Care
There has been little evaluation of psychological interventions for critical care patients to date, but a recent systematic review suggests that a range of non-pharmacological measures, including psychological interventions, could help to reduce both short- and medium-term stress (Wade et al. 2015). For example, an intervention to introduce psychology input to an Italian critical care unit reduced the incidence of post-traumatic stress disorder (PTSD) a year later with a large effect size (using a historical, not randomised control design) (Peris et al. 2011). Small studies point to the value of cognitive rehabilitation, potentially beginning as early as the critical care admission (Jackson et al. 2012).
Editorials have emphasised an increased need for psychological interventions in the critical care setting to be evaluated (Hatch et al. 2011), and such studies are now underway. A cluster randomised controlled trial in 24 hospitals in the UK, aims to evaluate the clinical and cost-effectiveness of a complex, nurse-led, preventative psychological intervention in critical care (icnarc.org/Our-Research/Studies/Poppi/About). A Danish trial to evaluate a nurse-led psychological recovery programme beginning 1-10 months post-ICU, found no benefit across a range of outcomes (Jensen et al. 2016). Other post-ICU interventions undergoing evaluation are cognitive rehabilitation (Jackson et al. 2012), coping skills training (Cox et al. 2012) and mindfulness (Cox et al. 2014). The key question is whether psychological interventions can improve patients' clinical outcomes.
Senior psychologists working in intensive care should ideally have the research expertise to contribute to, as well as keep abreast of, the evolving evidence base for this relatively new but rapidly expanding role.
Dorothy Wade, PhDDorothy Wade, PhD
writingwriting
Taken fromTaken from
//healthmanagement.org/c/icu/issuearticle/what-can-psychologists-do-in-intensive-care//healthmanagement.org/c/icu/issuearticle/what-can-psychologists-do-in-intensive-care