What conditions can affect oxygen saturation
2022-07-13
By Deborah Leader
Oxygen saturation, or "O2 sats," indicates that amount of oxygen traveling through your body with your red blood cells. Normal oxygen saturation is usually between 95% and 100% for most healthy adults.
Any level below this is concerning and in need of immediate medical attention, since it means your organs, tissues, and cells aren't getting the oxygen they need to function properly.
How Blood Becomes Oxygenated
Understanding how blood is saturated with oxygen begins with the alveoli, or air sacs. There are millions of these microscopic air sacs in the lungs. They serve an important function: to exchange oxygen and carbon dioxide molecules to and from the bloodstream.
When oxygen molecules pass through the alveoli, they bind to hemoglobin—a substance in the blood.
As the hemoglobin circulates, oxygen essentially hitches a ride and gets dropped off to the body's tissues. With this, hemoglobin picks up carbon dioxide from the tissues and transports it back to the alveoli so the cycle can begin all over again.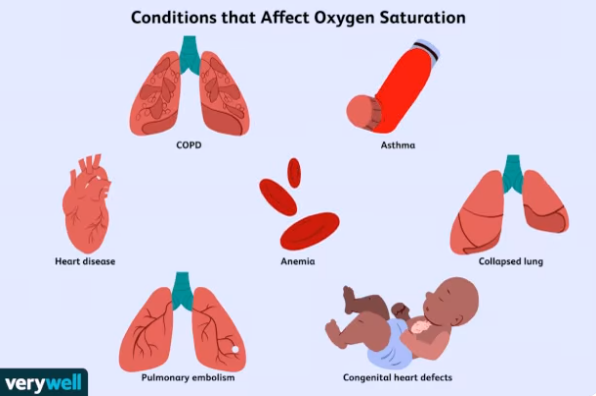 The level of oxygen in your blood depends on several key factors:
How much oxygen you breathe in
How well the alveoli swap carbon dioxide for oxygen
How much hemoglobin is concentrated in red blood cells
How well hemoglobin attracts oxygen
Most of the time, hemoglobin contains enough oxygen to meet the body's needs. But some diseases reduce its ability to bind to oxygen.
Each one of your blood cells contains around 270 million molecules of hemoglobin.But any condition that limits your body's ability to produce red blood cells can result in low hemoglobin levels, which limits the amount of oxygen that can saturate your blood.
Conditions Affecting Oxygen Saturation
Blood disorders, problems with circulation, and lung issues may prevent your body from absorbing or transporting enough oxygen. In turn, that can lower your blood's oxygen saturation level.
Examples of conditions that can affect your oxygen saturation include:
Respiratory infections (e.g., a cold, the flu, COVID-19), as they can affect your breathing and, therefore, your oxygen intake
Chronic obstructive pulmonary disease (COPD): a group of chronic lung diseases that make it difficult to breathe
Asthma: a chronic lung disease that causes airways to narrow
Pneumothorax: a partial or total collapse of the lung
Anemia: a lack of healthy red blood cells
Heart disease: a group of conditions that affect the heart's function
Pulmonary embolism: when a blood clot causes blockage in an artery of the lung
Congenital heart defects: a structural heart condition that is present at birth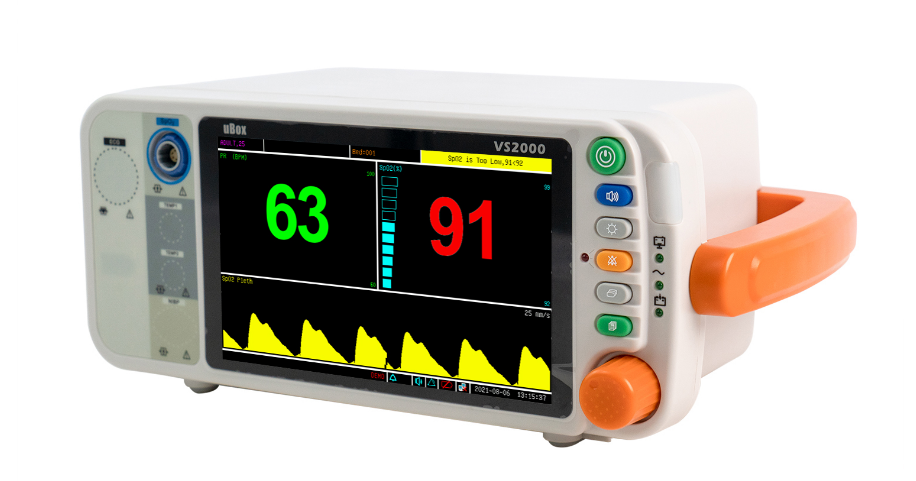 Measuring Your Levels
Oxygen saturation is usually measured one of two ways: arterial blood gas test (ABG or Sa02) and pulse oximetry (Sp02).
ABG is usually only done in a hospital setting, while pulse oximetry is done in a variety of healthcare settings, including your healthcare provider's office.
ABG
An ABG value refers to the levels of oxygen and carbon dioxide in blood running through your veins.
A nurse or lab technician draws blood from an artery, such as the radial artery in the wrist or the femoral artery in the groin. The sample is immediately analyzed by a machine or in a lab.
The ABG value can give your healthcare provider a sense of how efficiently the hemoglobin exchanges oxygen and carbon dioxide.
Pulse Oximetry
Similarly, a pulse oximetry reading reflects the percentage of oxygen found in arterial blood.
Unlike the ABG test, pulse oximetry is non-invasive. The test uses a sensor to read wavelengths reflected from the blood. This probe is simply attached to your finger, earlobe, or another place on the body. Results appear on a screen within a few seconds.
People can monitor their oxygen saturation levels using wearable pulse oximetry devices; some watches even have this feature. You can buy a pulse oximetry device at your local pharmacy or online.
People can monitor their oxygen saturation levels using wearable pulse oximetry devices; some watches even have this feature.