Medical embrace 5G transformation
2022-09-07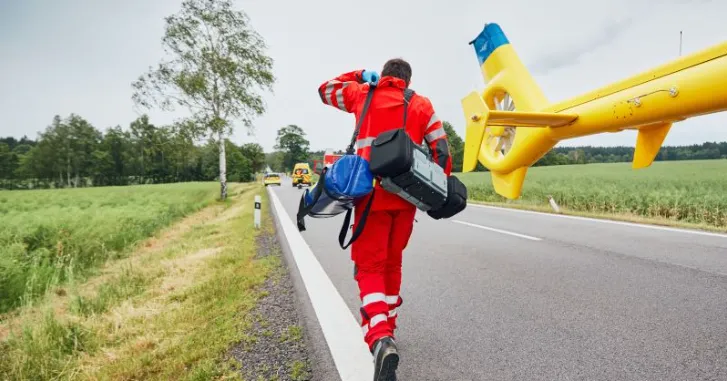 BEIJING-China has been expanding its 5G infrastructure at a rapid pace, utilizing next-generation wireless technology to facilitate the digitalization of different sectors of the country.
By the end of June, some 1.85 million 5G base stations had been built, supporting over 450 million end users, accounting for over 60 percent of the global total.
The rapidly expanding telecom network, featuring high speed, high reliability and low latency, has enabled futuristic scenarios in sectors like manufacturing, medical services and farming.

 
Remote surgeries
In 2019, a surgeon at Shanghai-based Huashan Hospital performed an endoscopic surgery to remove a pituitary tumor in a patient's brain.
About 20 kilometers away, nearly 60 interns closely watched the operation, which was livestreamed on a 4K high-definition screen. Thanks to 5G wireless devices developed by Chinese telecom giant Huawei, such cutting-edge training was possible.
It marked the launch of Shanghai's first 5G smart medical pilot base. Surgical procedures in China are evolving due to the 5G network's low latency advantage.
On Jan 17 this year, surgeons at Huashan Hospital made an attempt to excise a basicranial tumor, bolstered by 5G mixed reality (MR) technology developed by a Shanghai-based startup.
Wearing VR headsets, they cut out target tissues precisely through a five-centimeter incision. The brain's enhanced 3D holographic images were projected in real-time upon the patient's scalp to indicate exact locations inside the brain.
Huashan's 5G+MR surgery was listed among the Top 10 Cases at this year's World 5G Convention held in Harbin, Heilongjiang province, in early August.
5G technology also supports remote-controlled robotic operations. Medical workers from two hospitals in the eastern Chinese city of Nanjing and the westernmost prefecture of Kezilesu Kirgiz in the country's Xinjiang Uygur autonomous region collaborated to conduct surgery for stone removal through a 5G-enabled robot.
Experienced surgeons in Nanjing, Jiangsu province, used a long-distance ultrasound machine to give instructions on the precise place of the puncture, while their counterparts 5,000 km away operated accordingly to remove the stone.
During the operation, the average two-way 5G network latency was reduced to only 135 milliseconds, meaning the surgeons could communicate without any noticeable time delay.
As of Aug 1, the Kezilesu Kirgiz hospital had completed 22 stone removal robotic operations, making high-quality medical services more accessible to patients living in the country's remote areas.