CDSCO – Medical Device Registration in India
CDSCO – Medical Device Registration in India
author: Sky Wang
2022-09-22

Medical Device Registration process in India
---

The Medical Device Registration process in India is crucial for distribution purposes. The concerned authority would penalize any manufacturer who wishes to sell the product in unregistered condition. `so it is advisable for all importers /distributor and manufacturers to register with CDSCO. 
Devices registered during the voluntary registration period benefit from a truncated application that involves administrative documents such as Free Sales Certificate from the country of origin, ISO 13485 certificate, as well as basic product information. The voluntary registration process carries no government processing fees but may be cancelled or suspended by the CDSCO for product safety concerns, or when superseded by the requirement for the mandatory Import License. 
What is CDSCO ?
---
Every nation has different policies and registration processes as per their government regulatory bodies. CDSCO is the National regulatory Authority of India Located at Delhi provide guidelines for medical device registration in India. 
The CDSCO (Central Drugs Standard Control Organization) is the national regulatory body for pharmaceuticals and Medical Device Registration In  India. It's a licensing authority.  CDSCO serves an analogous role to the Food and Drug Administration of the United States the PMDA of  Japan,  European Medicines Agency of the European Union etc.  
To maintain a good regulatory control ,to resolve the issues if any and to avoid ambiguity,. the Central Government of India has established four zonal offices of the CDSCO at Chennai i.e. CDSCO Chennai, Mumbai i.e. CDSCO Mumbai, Ghaziabad i.e. CDSCO Ghaziabad, and Kolkata i.e. CDSCO Kolkata. The Zonal Offices work in close association with the State Drug Control Administration and aid them in guaranteeing unvarying enforcement of the Drug Act and other related legislations throughout in Indian Sub-continent.
CDSCO Roles & Responsibilities:
 
---
Many times new manufacturer or the person who wants to sell their product in India get confused about CDSCO, their roles and function ,so what  actually  a CDSCO mean: CDSCO is a national regulatory Authority of India located at Delhi, Directorate General of Health Services governs and  controls CDSCO. DGHS reports to the Ministry of Health and Family Welfare, Government of India. It has multiple zonal offices throughout India.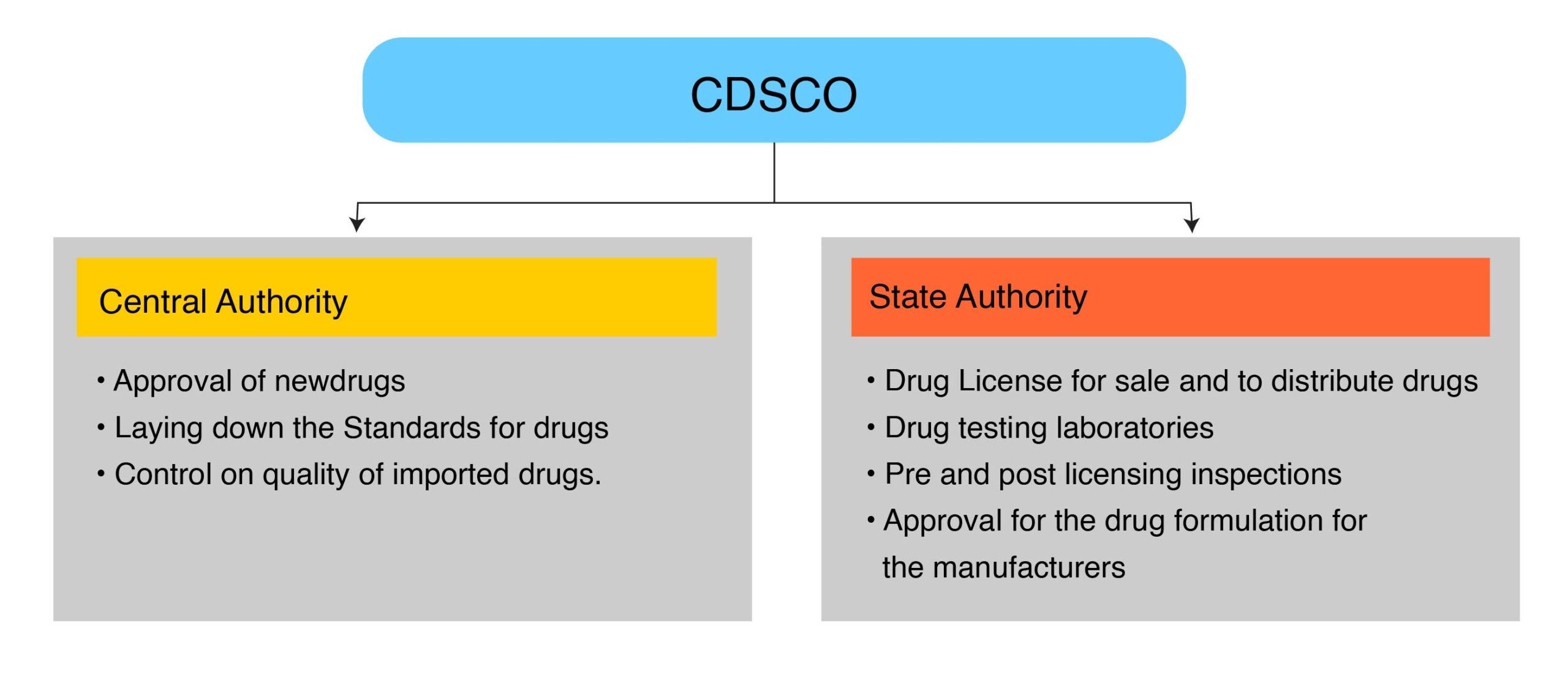 These authorities are formed under the Drug and Cosmetics Act 1940 and Rules 1945.
 
Classification of Medical device:
 
The regulatory procedures for medical devices will vary according to their class. The application fees of CDSCO will alsobe varying as per the classificationIn  general, higher-risk devices will require more regulations and a more stringent conformity assessment process.  CDSCO issued a new  notification for device manufacturers and importers, they need to mandatorily register their devices by 30th September2022.