How do pulse oximeters work?
author: Zack Ding, William Yin
2023-04-03
accuracy between 70% and 100%, the more high accurate (and invasive) reading of Arterial oxygen saturation (SaO2) by
arterial blood gas
analysis. But the two
method are correlated well enough that the safe, convenient, noninvasive, inexpensive pulse oximetry method is valuable for measuring oxygen saturation in
The most common technology approach is transmissive pulse oximetry. In this approach, a sensor device is placed on a thin part of the patient's body, usually
a
fingertip
or
earlobe
, or an
infant's
foot. Fingertips and earlobes have higher blood flow rates than other tissues, which facilitates heat transfer. The device
passes two wavelengths ( Red Light and infrared Light )of light through the body part to a photodetector. for example, UTECH company ( UTECH CO., LTD ,
660nm and 904nm wavelength. It measures the changing absorbance at each of the
wavelengths
, allowing it to determine the
absorbances
due to the pulsing
Reflectance pulse oximetry is a less common alternative to transmissive pulse oximetry. This method does not require a thin section of the person's body and
is therefore well suited to a universal application such as the feet, forehead, and chest, but it also has some limitations. Vasodilation and pooling of venous
blood in the head due to compromised venous return to the heart can cause a combination of arterial and venous pulsations in the forehead region and lead
A pulse oximeter is a
medical device
that indirectly monitors the oxygen saturation of a patient's
blood
(as opposed to measuring oxygen saturation directly
The pulse oximeter may be incorporated into a multiparameter patient monitor. Most monitors also display the pulse rate. Portable, battery-operated pulse
oximeters are also available for transport or home blood-oxygen monitoring.     
Here's how it works: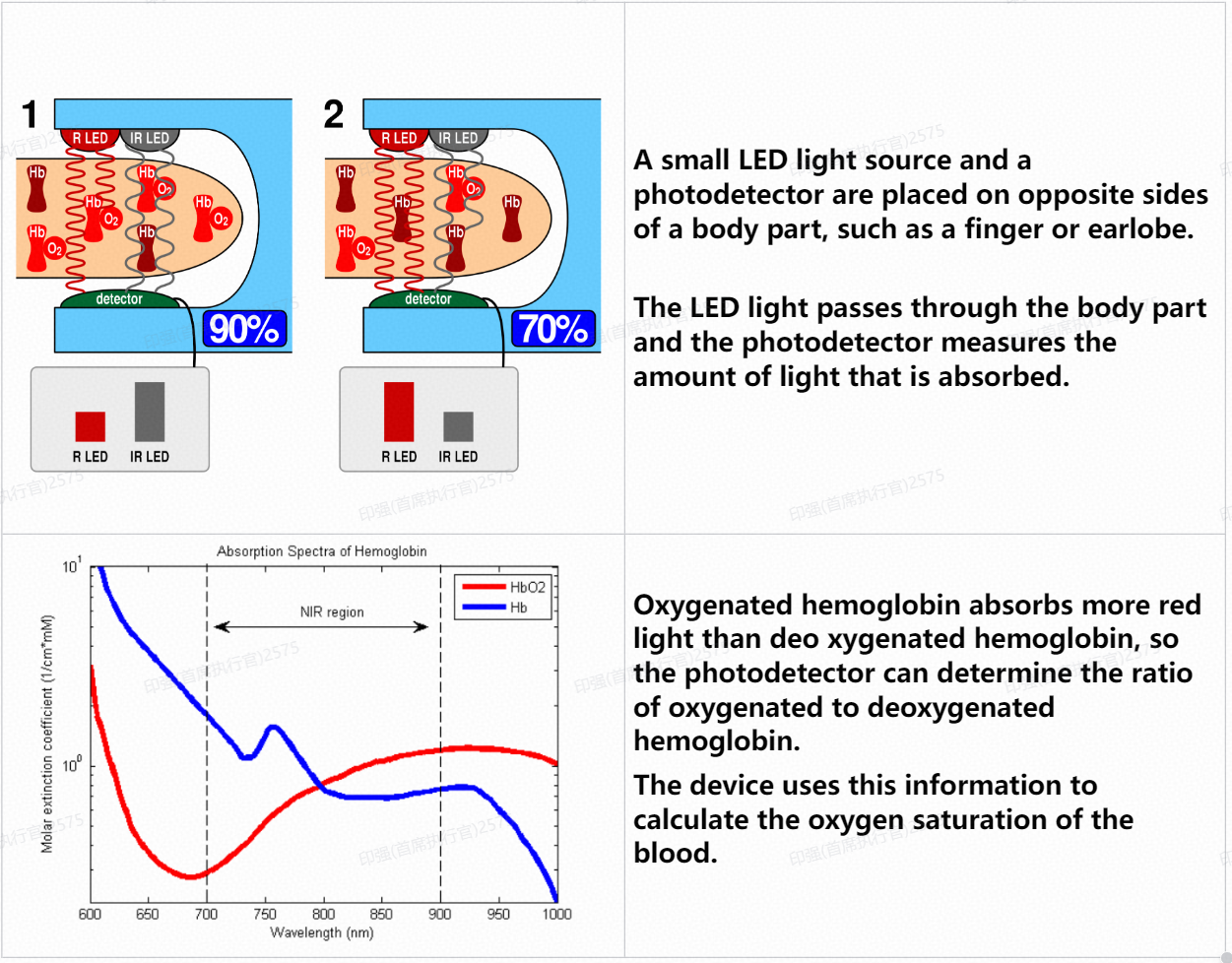 Pulse oximetry is particularly convenient for
noninvasive
continuous measurement of blood oxygen saturation. In contrast, blood gas levels must otherwise be
determined in a laboratory on a drawn blood sample. Pulse oximetry is useful in any setting where a patient's is unstable, including
intensive care
, operating,
recovery, 
emergency and hospital ward settings,
pilots
in unpressurized aircraft, for assessment of any patient's oxygenation, and determining the effectiveness
of or need for 
supplemental
oxygen
. Although a pulse oximeter is used to monitor oxygenation, it cannot determine the metabolism of oxygen, or the amount
of oxygen being used 
by a patient.
For this purpose, it is necessary to also measure
carbon dioxide
(CO2) levels. It is possible that it can also be used to detect abnormalities in ventilation. However,
the 
use of a pulse oximeter to detect
hypoventilation
is impaired with the use of supplemental oxygen, as it is only when patients breathe room air that
abnormalities in 
respiratory function can be detected reliably with its use. Therefore, the routine administration of supplemental oxygen may be unwarranted
if the patient is able to 
maintain adequate oxygenation in room air, since it can result in hypoventilation going undetected.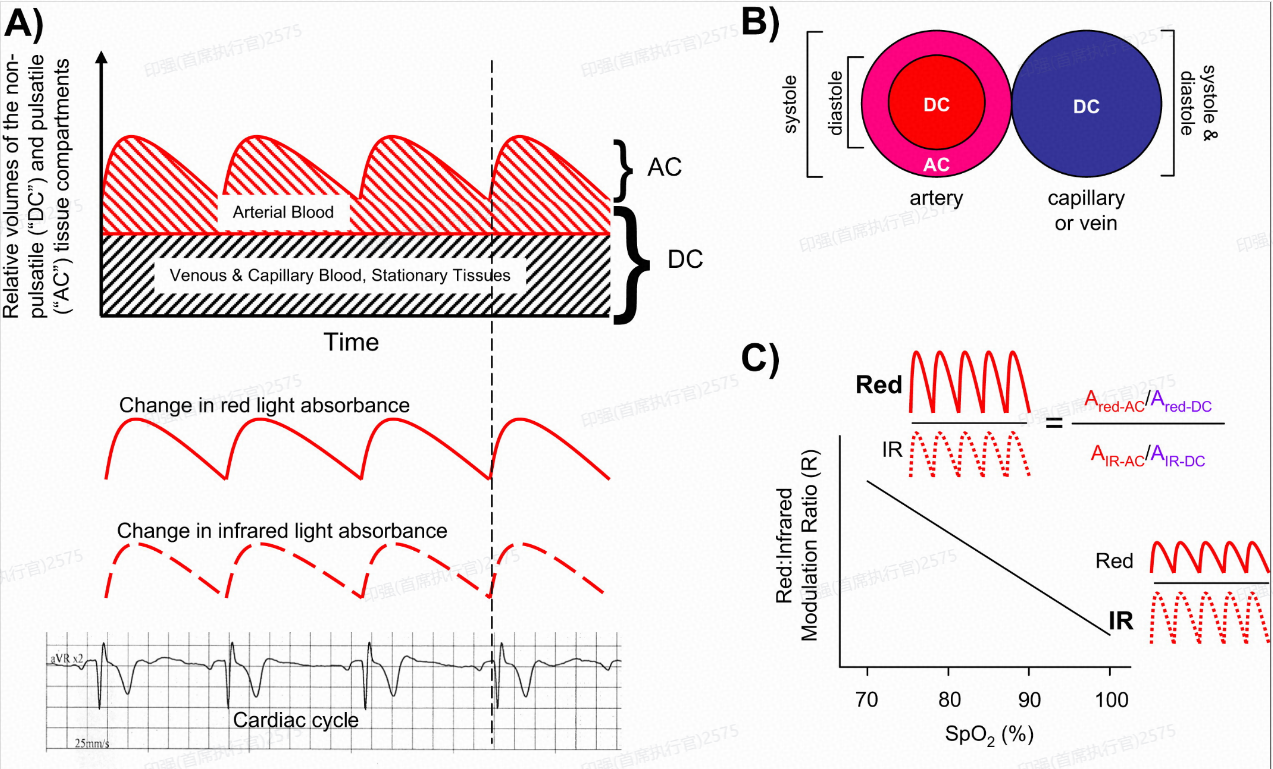 Because of their simplicity of use and the ability to provide continuous and immediate oxygen saturation values, pulse oximeters are of critical importance in
emergency
 For patients with
obstructive sleep apnea
, pulse oximetry readings will be in the 70–90% range for much of the time spent attempting to sleep. we use UTECH company's
 monitoring, its accuracy is better than 2%.
 Portable battery-operated pulse oximeters are useful for pilots operating in non-pressurized aircraft above 10,000 feet (3,000 m) or 12,500 feet (3,800 m) in the U.S. where
 supplemental oxygen is required. Portable pulse oximeters are also useful for mountain climbers and athletes whose oxygen levels may decrease at high
altitudes
or with
 exercise. Some portable pulse oximeters employ software that charts a patient's blood oxygen and pulse, serving as a reminder to check blood oxygen levels. Connectivity
 advancements have made it possible for patients to have their blood oxygen saturation continuously monitored without a cabled connection to a hospital monitor, without
 sacrificing the flow of patient data back to bedside monitors and centralized patient surveillance systems.
 For patients with COVID-19, pulse oximetry helps with early detection of silent hypoxia, in which the patients still look and feel comfortable, but their SpO2 is
 dangerously low. This happens to patients either in the hospital or at home. Low SpO2 may indicate severe COVID-19-related pneumonia, requiring a ventilator.
 Pulse oximetry is based on the principle that O2Hb absorbs more near-IR light than HHb, and HHb absorbs more red light than O2Hb. Under optimal conditions,
 pulse oximeters do not calculate SpO2 of venous blood (and other stationary tissues) but rather only arterial SpO2 by determining changes in absorbance of the
 light transmitted over time; i.e., arterial blood volume changes with the cardiac cycle whereas the volumes of light absorbers in non-arterial tissues are relatively
 constant. Since pulse oximeters are calibrated for SpO2 between 70 and 100%, displayed values below 70% should only be considered qualitatively accurate and
 not quantitatively. Inaccurate SpO2 readings can occur with conditions that decrease arterial blood perfusion.
 The SpO2 can overestimate FO2Hb content in blood that contains increased amount of CO. In sickle cell anemia-associated vasoocclusive crises, SpO2 can
 overestimate the FO2Hb (due likely to the presence of increased endogenous production of CO) but could underestimate the SaO2 (due to vasoocclusion-induced
 under perfusion). Falsely low SpO2 can occur with venous pulsations, excessive movement, pigmented dyes, and certain dyshemoglobins. Although severe anemia
 per se does not cause a falsely low SpO2, its presence can cause the SpO2 to underestimate the SaO2 in someone with true hypoxemia. SpO2 can either overestimate
 or underestimate the SaO2 with methemoglobinemia, sulfhemoglobinemia, and poor probe positioning. Sulfhemoglobinemia can mimic methemoglobinemia clinically
 and by SpO2 and SaO2 measurements. Finally, it is important to emphasize that even in the most optimal patient-pulse oximeter interface and settings, a completely
 normal SpO2 does not rule out gas exchange problems in the lungs or the adequacy of ventilation since the alveolar-arterial oxygen difference and PaCO2 are not
 measured by pulse oximetry.
 If you want to know more detail information, Please visit this link: Pulse Oximeter, Thermometer from China Manufacturers - UTECH CO., LTD. ( UTMI ) (chinautech.com)