Conditions That Affect Oxygen Saturation
author: By Deborah Leader, RN Updated on July 30, 2022
2022-08-12
Oxygen saturation is a measure of how much oxygen is in your blood.Your organs and tissues need oxygen to work.
Oxygen can "hitch a ride" in your red blood cells and travel through the bloodstream to get where it needs to go in your body.
For most healthy adults, a normal oxygen saturation level is between 95% and 100%.An "O2 sat" level below this range requires medical attention because it means your body isn't getting enough oxygen.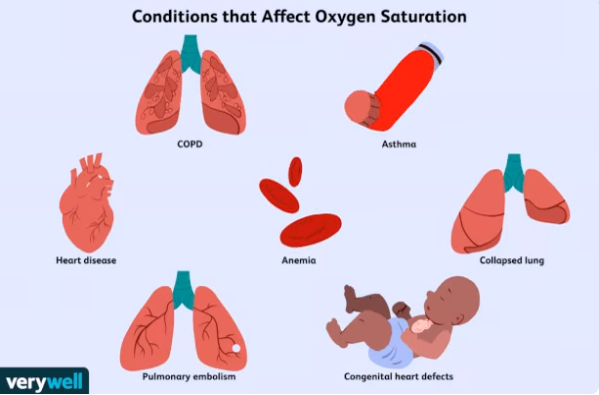 How Blood Gets Oxygenated
To understand how blood gets saturated with oxygen, you have to know about the air sacs in the lungs called alveoli. There are millions of these microscopic air sacs in the lungs. They exchange oxygen and carbon dioxide molecules to-and-from the bloodstream.
As oxygen molecules pass through the alveoli, they bind to a substance in the blood called hemoglobin.
Oxygen "hitches a ride" on the hemoglobin as it circulates until it gets dropped off to the body's tissues. Then, hemoglobin picks up carbon dioxide from the tissues and transports it back to the alveoli. Once there, the cycle can begin all over again.
The level of oxygen in your blood depends on several factors:
How much oxygen you breathe in
How well the alveoli swap carbon dioxide for oxygen
How much hemoglobin is concentrated in red blood cells
How well hemoglobin attracts oxygen
Most of the time, hemoglobin contains enough oxygen to meet the body's needs. However, some diseases reduce hemoglobin's ability to bind to oxygen.
Conditions That Affect Oxygen Saturation
Blood disorders, problems with circulation, and lung issues can prevent your body from absorbing or transporting enough oxygen. When this happens, it can lower your blood's oxygen saturation level.
Examples of conditions that can affect your oxygen saturation include:
Respiratory infections (e.g., a cold, the flu, COVID-19): Any condition that affects your ability to breathe will affect your oxygen intake
Chronic obstructive pulmonary disease (COPD): A group of chronic lung diseases that make it difficult to breathe
Asthma: A chronic lung disease that causes airways to narrow
Pneumothorax: A partial or total collapse of the lung
Anemia: Not having enough healthy red blood cells
Heart disease: A group of conditions that affect the heart's function
Pulmonary embolism: When a blood clot causes blockage in an artery of the lung
Congenital heart defects: A structural heart condition that is present at birth